Blu Rivard hopes that his works communicate in some small way, the depth of his love for this wonderful earth and all the creatures that inhabit it. After hundreds of years of industrial exploitation, with no regard for the consequences, our planet is now in the most fragile state that it's ever been in. It's time for all of us who care to do our part to support the organizations that are actively helping to preserve our environment.


PADI (Professional Association of Diving Instructors), a company that not only stands for excellence in diving, but is very active in environmental issues worldwide. For more information about PADI go to > www.PADI.com.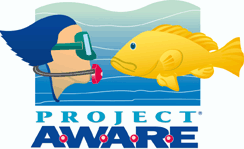 PADI is the founder of "Project Aware Foundation" (Aquatic World Awareness, Responsibility, and Education) since 1992. Blu was recently appointed as a member serving on the Honorary Board of Governors, with an esteemed group of conservation-minded individuals, such as Dr. Sylvia Earle, Jean-Michele Cousteau, editor of Skin Diver magazine Al Hornsby, Dee Scarr famed underwater photographer, and other well known personalities. For more information about Project Aware, go to
www.projectaware.org
.
For more years than I've been alive, it's been a struggle for people to grasp how vital it is to protect our planet's oceans. The Cousteau Society, the Cousteau family, and PADI have done a valiant job of raising awareness the fragility of this life source. I believe it's essential--especially now--to support such efforts. The Project Aware Foundation is a non-profit organization with such a mission. They're dedicated to educating people to take responsibility for preserving this fragile liquid eco-system. After all, it's the life-line of every one of us. I encourage you to support Project Aware any way you can.



Blu was nominated and inducted into OAS in June of 2014
Using Ocean Art to Inspire People Around the World to a Greater Awareness of Our Need to Preserve Our Natural World.